Discover more from Among the Wildflowers
a weeklyish dose of honesty, heart, and humor from this seeker & mama
Hi there, it's been a while. 
Excuses. Life gets in the way of living. Right?
I told myself, and you, that I'd be here each week (and hopefully in your inbox, wink wink). And now it's been almost a month of crickets. Because 'the kids are sick', because 'family is visiting', because 'I'm traveling', because 'it's basically December so maybe I just start fresh in January?'. Because I had a handful of googledoc tabs open with half-written essays that were feeling ughhh, staring at me each time I opened the computer. And yes, it's true that life happens and days, weeks, can go differently than planned. And sleep? Um, what's that? [Insert assembly line of sick kids again.] But it's also true that I let it snowball into the bigness it became for me.
---
THE VOID
It is wild how only after 3-4 weeks of not finishing and publishing a piece, the energy inside me shifted. I started feeling lost, unsure of what's next. Don't get me wrong, I didn't have this clarity a month ago either. I'd been in the gray zone, but there was a spark, and that spark made it all nice and toasty. I invited the gray and nurtured it. The spark allowed me to trust each day's baby-step and not ruminate on what tomorrow may look like, the big 'what am I going to do with my life?!' question didn't nag at me. But without that spark, the gray turned foggy, my thoughts jumbled, and I started to drown in that question. An eagerness and fire building inside me, but not knowing what to feed it into, feeling like I could internally combust at any moment. Spending more time scrolling, consuming, rather than creating. My Pisces idealism kept brewing an extensive list of things I'd like to do, yet amidst a sense of overwhelm, nothing got done and blame landed just about anywhere but on me.
Because it's easy to say 'tomorrow'. And I don't know about you, but in my case 'tomorrows' never come alone. Once I invite one in, a whole bunch of 'em come swimming at full speed and flood my space. Their energy is contagious and it makes me lethargic, uninspired. And damn it's hard to kick them out.
---
INVITING NEW ENERGY
There are things that help me snap out of it, like silent walks in nature, taking a yoga class, dancing while blasting reggaeton. But these weren't doing the trick and the anxiety was building. I needed to go bigger. I needed a freaking jolt, something from left field, something beyond myself.
First, I created space for it. Rearranged-furniture and a merciless closet-cleanse later, the change was palpable. With multiple bags of clothes and items donated, this purge wasn't just about putting aside things I didn't use, it was about deciding something 'wasn't me' anymore even if I'd used it yesterday. Ahhh, sweet relief. Just like chopping off your hair and dropping the dead weight, the tell of a new beginning (close to being my next move).
And then over the weekend, the jolt came. Thank God. 
The lightning hit last Sunday in the form of a poetry class led by Chelsie Diane (@poemsandpeonies), who's a feisty force of nature. Class was on the iconic Frida Kahlo, and both these women lit a huge fire under my a**. There's something so healing about the simple act of sitting in circles of women, learning about each other's battles and growth, each other's magic. It's the good-contagious. Head nodding, blood pumping, jotting down aha-moment after aha-moment, I became ready again. Ready to pick up the paper, pen, laptop, paintbrush, scissors - you name it - and create. Create anything. I could finally take the brewing fire inside me and direct it somewhere. With the distinct awareness that the act of creating is more important than the creation itself.
Many things inspired me in class, but I'll leave you with a couple nuggets in case they ignite something in you:
What will your first paragraph say? Chelsie was [validly!] angry that the first paragraph on Frida Kahlo's bio online somewhere opened describing her as Diego Rivera's partner. Yes, she was, but that's far from what makes her HER. Frida was a trailblazing artist, poet, activist, an independent thinker, and so much more. Chelsie invited us to think about what our first paragraph should say. Who are YOU, independent of those around you? Forget the labels given to you by others, you get to decide. And remember, you can choose to change it any day just as you please. 
Frida said, "The only thing I know is that I paint because I need to". What do YOU do because you just need to? What can't you help yourself with? What's something you simply wouldn't be you without doing?
(ps - class part 2 on Frida is happening Dec. 18th via zoom- if you're intrigued, join!)
---
MIC DROPS FROM FRIDA & CHELSIE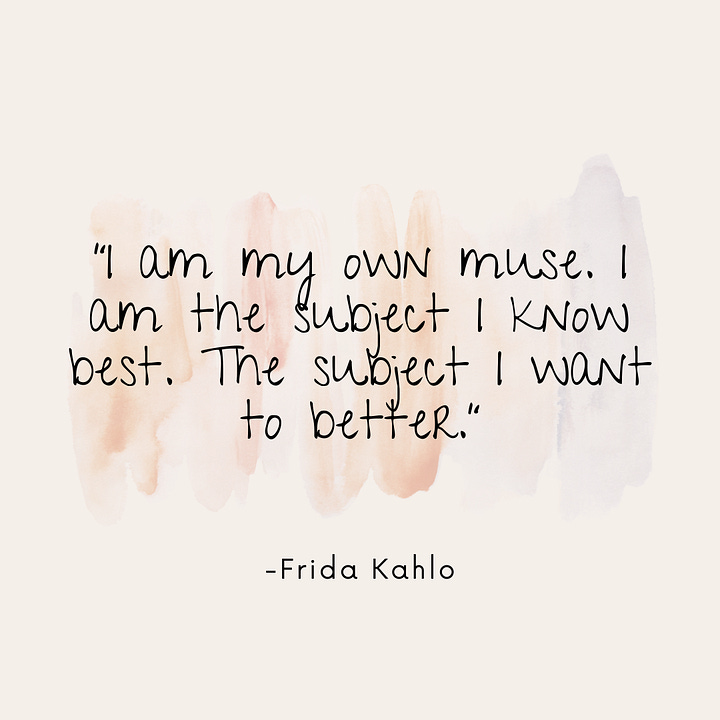 ---
AS FOR ME
I'm not entirely sure what my answers are, but I'm equal parts intimidated and stoked to be figuring it out. These questions - and a welcome push from last week's Gemini Full Moon - were enough to end my streak of 'tomorrows' and got me here first thing Monday, at the computer, writing, taking small steps forward. And what a difference even just a few minutes a day can make (ok ok, most days; still a mom of a couple youngins over here).
After a week of electric adrenaline, I want to share a few updates for my writing:
Where - I transferred my work to Substack - an amazing platform for creators that encourages more collaboration. If you're not on it yet, check it out and download the app. It's a great space to discover independent writers on pretty much any subject you're interested in. 

When - I want to keep my word to myself and you, to publish consistently. Habit, habit, habit. Ritual, ritual, ritual. Skill, skill, skill… This will likely mean shorter pieces, on more day to day happenings, maybe more stream of consciousness, but hopefully more digestible, still relatable, and more fun.

What - I'm also encouraged to transition to a newsletter of sorts, including additional tidbits of inspiring things to chew on. Or simply random things I come across. Let's just see shall we? 

Who - With all this, I've named my writing space 'Mafe's Musings'. At least for now. I suspect this will all continue to evolve as I do, and I welcome it. Hope you do too. 
In the end, I'm here because I think writing is something I just have to do, and I'm inspired to share what I'm experiencing and exploring, with some honesty, heart, and humor. If I can give you a side smile, a pause, or light a fire up your a** along the way too, well what a jackpot. I love to hear when things resonate, so let me know if anything does!
See you soon ✌️
Thanks for reading Mafe's Musings! Subscribe for free to receive new posts and support my work.