Discover more from Among the Wildflowers
a weeklyish dose of honesty, heart, and humor from this seeker & mama
Hi friend,
Today I'm not here with an essay for you. Instead, every cell in my body is vibrating, excited, wanting to share a couple of updates.
NEW NAME
If you've been here before, you might have noticed that things look a bit different. Good eye, you. I've long wanted to feel out the essence of this space, of the energy I want to build towards and invite you into. Plus find the right words to capture it.
And with that, "Mafe's Musings" is now "Among the Wildflowers".
For one, yes, I'm obsessed with wildflowers, always have been. I find their beauty mesmerizing. But it's more than that.
Wildflowers are unruly. In a good way. Rooted in rough, uneven terrain, exposed to temperamental weather, they continue to grow tall and show off their rich color. Through the thick of it, they find a way to blossom, even if it means with a crooked stem and some thorns. (Going full on cliché here and owning it!).

While I'm mostly exposed to wildflowers via $45 bouquets at Erewhon (the most 'LA' supermarket you could imagine), when I think of wildflowers I think of nature. Weekend hikes in the mountains, seeing the vast ocean, the Monopoly-sized houses and buildings down below; it's a little escapade that offers a different perspective. It's grounding.

Plus - add that I've never been one for cardio - my heart beats hard in my throat, my legs shake, my side hurts; I don't talk much to save whatever bits of breath I can, and I often end up alone at the tail-end of the group. Just me with my body and my thoughts. A solitude I love deeply. (An by 'group' I mostly mean my hyperactive dog, my frustratingly-fit-by-nature husband, and the three-year old he nonchalantly carries on his back.)

From a solo-birthday-hike in Ojai earlier this year. Can you tell purple & yellow are my fave?

I've also been thinking a lot about 'belonging' lately; how vital it is, and what it feels like. About how special it is to find others with whom it feels safe to be yourself. Where you're not consciously or unconsciously measuring your every word. You just be. And these humans are genuinely rooting for you, just like you're rooting for them.

There's an image that's been constantly finding its way into my mind recently. It's me with a group of women, together in an open field, sitting on vibrantly colored Incan textiles, next to a majestic old tree - its trunk, roots, and branches taking up its deserved space, protective. Like in a dream, in this vision I don't look like myself, I don't recognize others, and I can't tell you exactly what we're doing. But I know the feeling it gives me. It's one of sisterhood and safety, with a heavy dose of sassy & witchy. Now, I'm not going to go live in white tunics in the countryside somewhere (not yet?), I need my beloved coffee shops nearby; but that's an energy I'm craving.
So, welcome to Among the Wildflowers.
A space to share honest stories of both the hard and the beautiful, big and small. A safe space for my heart to open, sometimes amidst sobs, sometimes amidst chuckles, (almost certainly amidst the woo-woo), so that hopefully yours can too.
Thanks you for being here.
---
NEW ME
Now, continuing with the same sentiment above, remember I told you I had a huge Monet enchanting my daydreams? This week I finally brought it to life and my heart is doing summersaults! More reps for that do-the-thing-despite-the-fear muscle.
Introducing: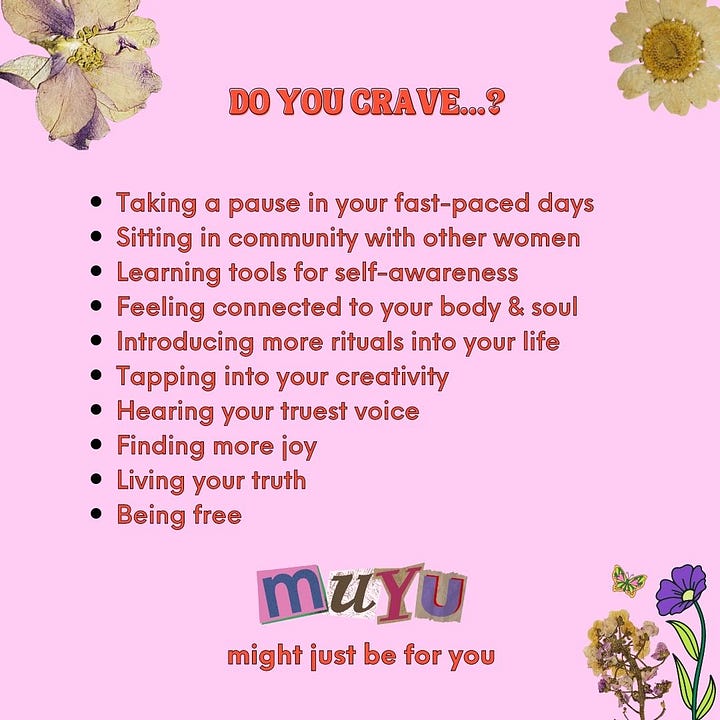 For launch this month, I'm starting with an intimate cohort in Spanish over five sessions, hoping to get some valuable learnings and come back with MUYU 2.0 by October.
Not gonna lie, this whole 'English or Spanish?' thing - because trust me it's a WHOLE thing - is hard. I'm eager to offer this to my LatAm community because I get the feeling there's less of this type of conversation already available. (And let's just say LA is not in dire need.) And while most of them are fluent in English, it's different to watch a movie and want to hear Ryan Gosling say "May I approach the bench?" to Emma Stone in his actual [yummy] voice, than to speak about matters of the soul.
But I fear alienating my US community. And not being able to share what I'm doing and loving with my friends here feels, well, plain weird.
To double-Insta-account or not to double-Insta-account, that is the question. (That's where you'll find me, I don't do blue birds.) I decided the answer is to embrace my whole self, which is I'm a Spanglish-speaker. (I know, 'bilingual' right? But if you know me, that doesn't quite hit the mark.) And as a mentor recently said to me, that 'whole thing' is an asset not a liability. That means all of me stays in one place. And in the future this newsletter may come in two languages too.
As for MUYU, the vision is to have communities in both English and Spanish, and for it to be an ongoing monthly membership so women have this special space always available. If (when!) that happens, I'll be elated and will be sure to let you know.
For now, be patient with me Insta friends as I skew Latina-Mafe to get started. Balance shall be restored soon enough.
*If you have Spanish-speaking friends who may be interested in learning more, share this post! We kick off June 22nd.*
---
GOODS BY NEW FRIENDS
Let me leave you with some powerful weekend reads; vulnerable bodies of work which have touched my heart, all by my friends from Write of Passage.
Sharing others' pieces, podcasts, paintings - you name it - that have moved me, is something I plan on doing more of. Stay tuned.
---
Have a wild week,
Mafe
Thanks for reading Among the Wildflowers! Subscribe for free to receive new posts and support my work.